Windy and snowy today | Time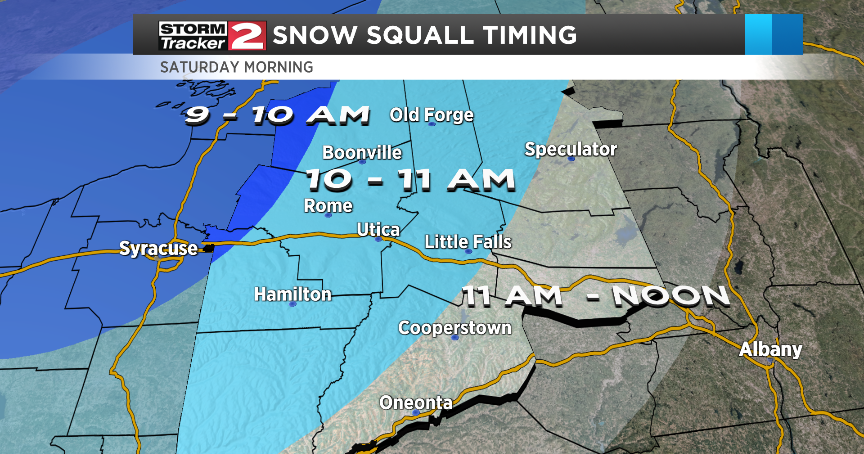 Morning: Snow squalls. Temperatures in the mid 20s.
Afternoon: End of snow squalls. Windy. High 29.
Tonight: Cloudy. Bottom 9.
Tomorrow: Partly cloudy. High 36. Low 20.
***A snow squall warning is in effect for Oneida and Madison counties until 10:45 a.m.***
***A wind advisory is issued in and south of the Mohawk Valley until 10 p.m. tonight.***
*** A winter weather advisory is issued for North Herkimer, North Oneida and Madison County until 7:00 p.m. tonight. **
*** The flood warning remains in effect in Lewis County until 4 p.m. this afternoon. ***
***Saturday is a Stormtracker 2 alert day for snow squalls and high winds***
Snow squalls are developing this morning, bringing sudden, intense snowfall in short bursts, as temperatures hover in the mid-20s. Visibility can be near zero during a snow squall event, so be careful if you move. The timing seems to be between 9am and 11am. Temperatures reach a high of 29 and winds pick up significantly in the Mohawk Valley in the afternoon. Wind gusts could reach 40+ mph. More flurries are expected in the evening as temperatures drop to the teens. Most areas could see total snowfall of 1-2 inches while the north of the country could see 2-4 inches. Tug Hill could see additional snowfall exceeding 4 inches.
Dry weather tomorrow with highs of 36 and partly cloudy skies. Warmer weather ahead from Monday as temperatures climb to the mid 40s. Cloudy skies give way to rain Tuesday evening and Wednesday morning with temperatures remaining mild. Thursday's highs fall into the upper 20s with another system bringing snow to the region on Friday.