Sadiq Khan urges Rishi Sunak not to 'level London'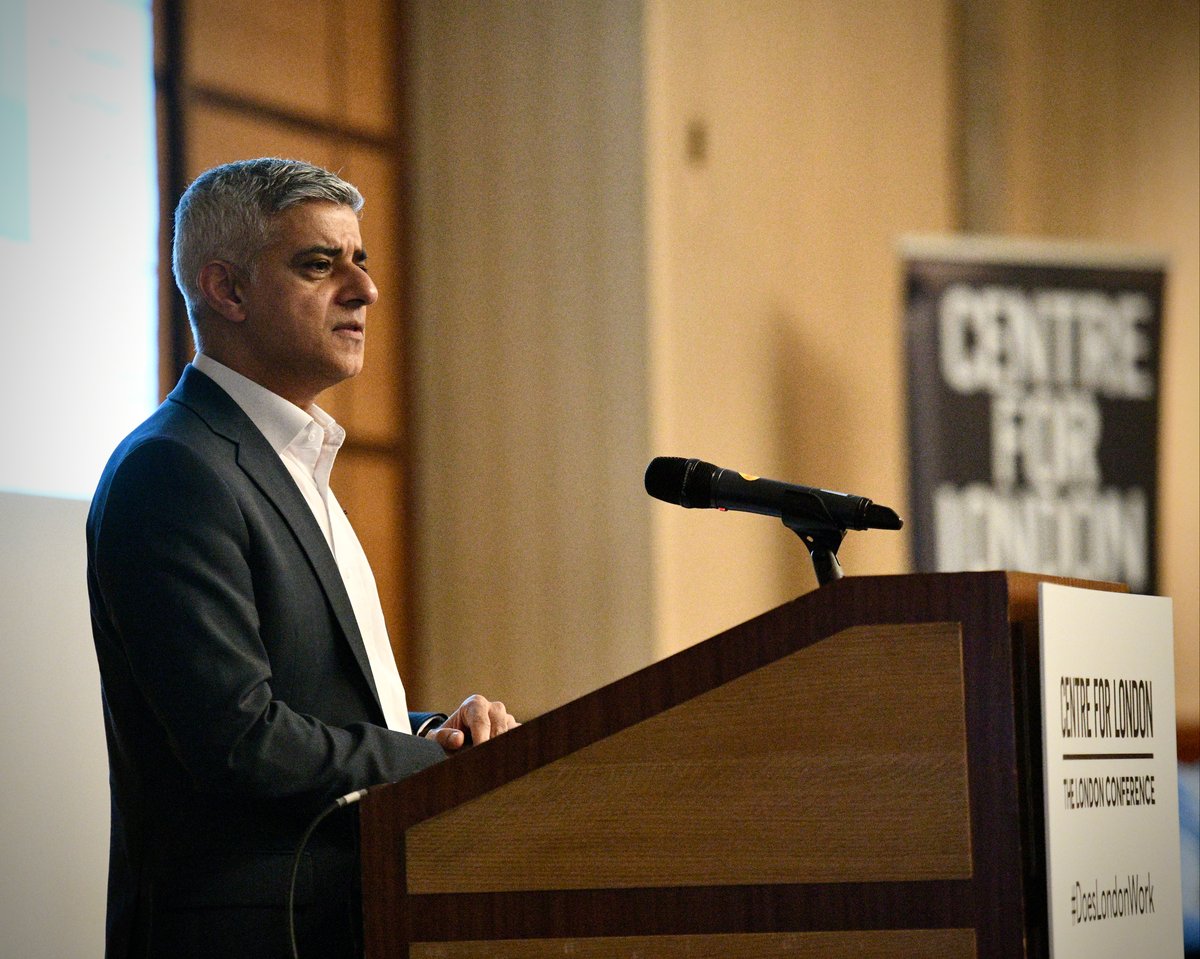 Sadiq Khan has urged Prime Minister Rishi Sunak not to "level London" ahead of warnings about public spending cuts dubbed "Austerity 2.0".
The Mayor of London reiterated his call for the Government to allow City Hall to freeze private rents, during a keynote speech at the London Conference today (Tuesday November 1).
He also wants benefits to be increased in line with inflation and free school meals for all children, he told delegates at the Center for London's flagship event.
It comes ahead of Prime Minister and Chancellor Jeremy Hunt's autumn statement expected later this month, with fiscal measures to calm markets sparked by economic chaos following turmoil surrounding Liz Truss and Kwasi's 'mini budget' Kwarteng.
Speaking on the University of London website, My Khan said: "We cannot level the country by leveling London."
Sadiq Khan speaking in Central London. Photo: Mayor's press service
He said: "I strongly believe that to help our communities weather this terrible cost of living crisis – and return to growth – we need more decentralization and sustained investment, not sweeping cuts.
"I am championing the London Living Wage and investing heavily in our training and retraining schemes, a Green New Deal for London and our Anchor Institutions scheme.
"These initiatives aim to create the well-paying, high-quality jobs that Londoners deserve."
Minister for London Paul Scully speaking at the conference in Central London. Photo: London World
And Mr Khan added: 'This is a serious, sustainable and inclusive growth plan, not Singapore on the Thames or Austerity 2.0. It's one that's designed to help make sure our city works for everyone.
"London's promise – the idea that if you work hard you get a helping hand and you can achieve anything – is under serious threat as economic forces are rapidly eroding any expectation that the next generation will be better off than the last.
"My message to the new Prime Minister today is to work with me and invest in London if you want to develop the national economy, improve other regions and raise living standards."
Sadiq Khan at the Center for London conference. Photo: Mayor's press service
He continued: "Because the UK only works when London works – and vice versa, and I will always be ready to put party politics aside in the best interests of our capital and our country.
"We need to get our economy running on all cylinders.
"It means delegating more power, funding and resources to London so that we can ensure our city works for all of our communities, and that we can help fuel the national recovery."
In his address, London Minister Paul Scully, and Conservative MP for Sutton and Cheam, said: "We know that local authorities in London are very much on the bone.
"[But] there is a tough spending review and the Chancellor will set a really tough target because we have to.
"It will be the same for local authorities."
He added: "I know the boroughs in particular have faced their fair share of challenges over the past few years, but have also responded with flying colors.
"Councils have been on the front line in helping residents struggling with the cost of living, especially the elderly and vulnerable."
And he asked councils to "work more collaboratively," stressing, "We also need to do this in our ministries. »