October 11, 5:30 PM Weather Forecast – Followed by more precipitation, a few thunderstorms and chilly gusts until we warm up significantly…. Then the last glimpse of late November | New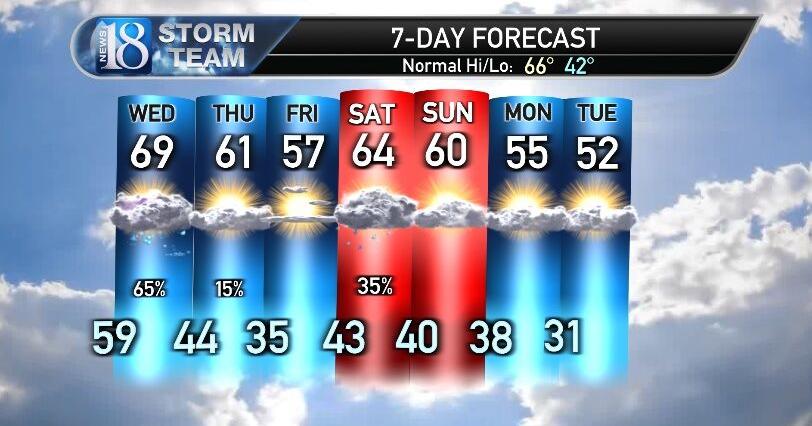 Overnight lows reached 48-56 with highs today hitting 66-74 before falling as rain in the dry air caused temperatures to suddenly drop to 54-62 for a while before rising a little .
A few isolated showers are possible this evening-early tonight followed by a flurry of rain overnight with temperatures rising to 58-62 then dropping to 56-61 with rain.
Winds will pick up to 15-30 mph from the south.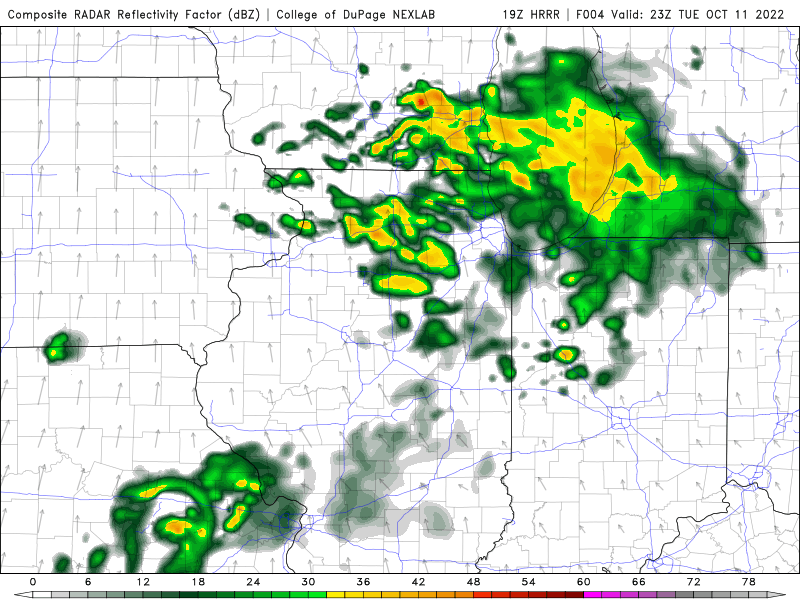 After a brief lull early Wednesday morning, a wave of rain and even an isolated thunderstorm or two will pass.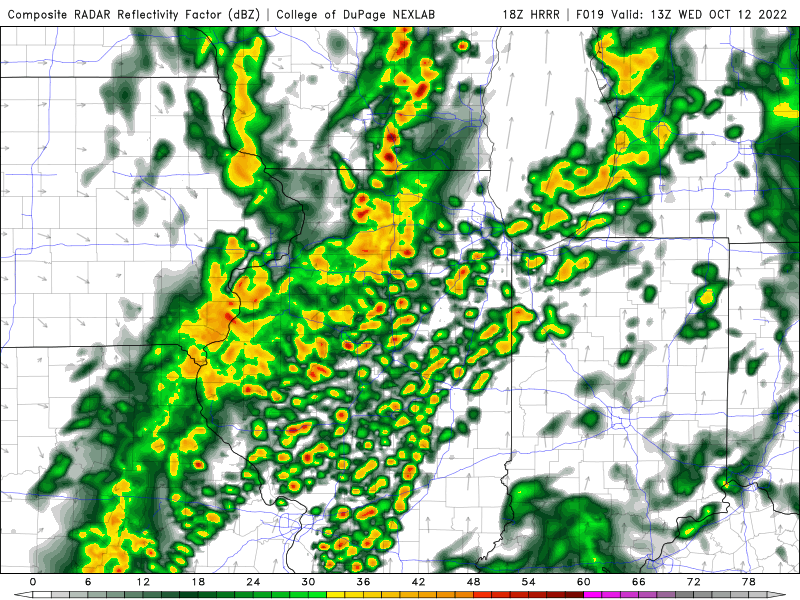 After a lull with mostly cloudy to cloudy skies and winds increasing to gusts of 30 to 40 mph from the south-southwest, the main line of showers and thunderstorms are expected to pass between 2 p.m. and 5:30 p.m.
If there were to be an isolated integrated thunderstorm, it would occur with this line (threatening main wind).
The absence of heating and instability will prevent a higher risk than the wording "a possible isolated severe storm".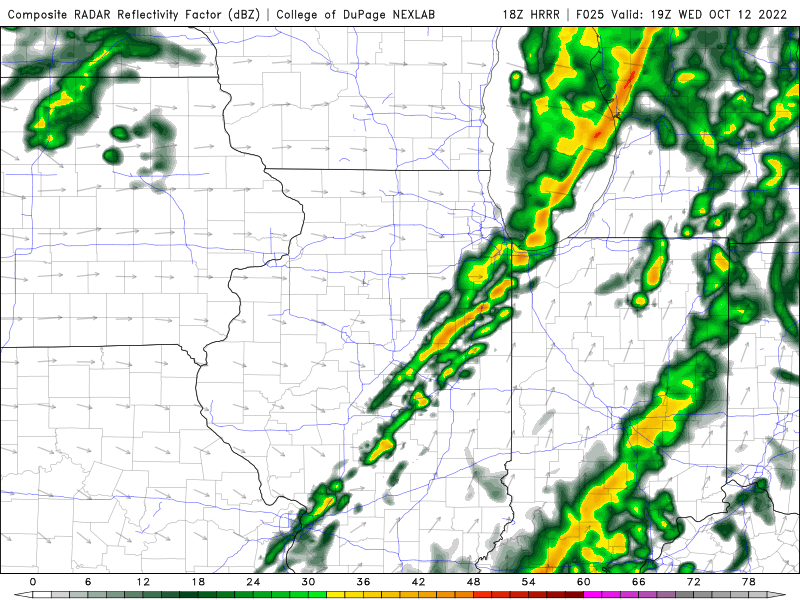 A clear clearing should follow with the wind shifting to the west-southwest at 13-25 mph.
A brief flurry of showers should then follow as skies quickly cloud over tomorrow evening. This wave of a few showers should pass between 11 p.m. and 3 a.m.
Skies should clear quickly behind him with westerly winds at 12-23 mph.
Lows of 41-46 are expected.
Total precipitation today through Wednesday evening of approximately 0.50 to 1″ is expected.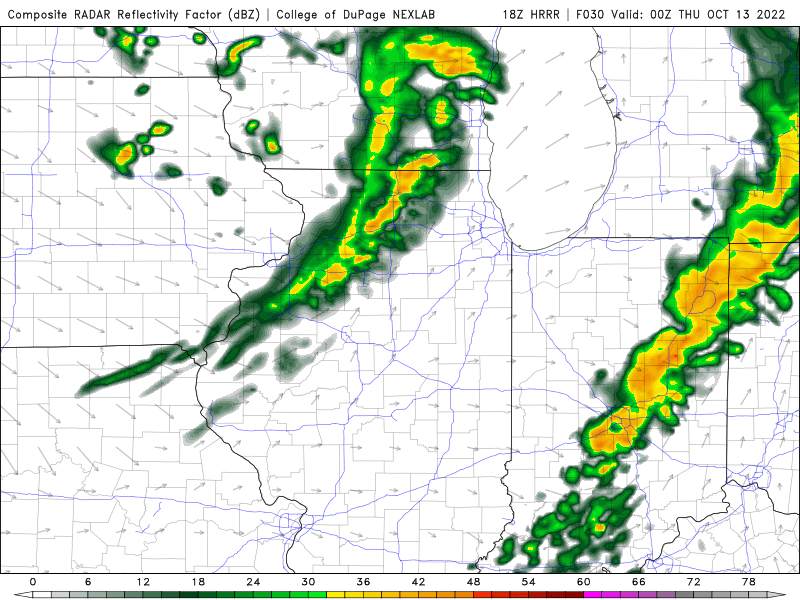 As for Thursday, the sky looks mostly sunny to sunny throughout the morning, then cumulus clouds develop and rotate southwesterly during the day. Skies can become mostly cloudy over the northwest half of the viewing area with less cloud as you head southwest into the viewing area.
Highs of 57 north to 64 southwest are expected (61 Greater Lafayette).
Isolated sprinklers are possible with westerly winds becoming strong to very strong in the afternoon, sustained at 20-28 mph gusting to 32-45 mph.
The wind will decrease Thursday evening and eventually skies will become completely clear with lows of 33 to 36. A few patchy frosts are possible.
Friday afternoon will see mostly sunny skies in the southwest, but partly cloudy skies (cumulus and stratocumulus clouds) as you head northeast into the region and mostly cloudy skies in the afternoon in our far north and northeast counties.
Highs of 53 to 60 are expected with strong westerly to west-southwest winds of 20 to 40 mph.
Winds then go south to southwest Friday evening at 13-24 mph with temperatures stabilizing at 44-50 with scorching cumulus/stratocumulus and medium cloud rising from the west.
As for Saturday, it looks like two short waves and a surface cold front will pivot.
A patch of a few showers should pass in the morning, followed by some sunshine, then another patch of a few bubbling showers, with a few isolated showers, in the late afternoon-evening.
Highs of 63-69 are expected with strong southwest to west-southwest winds of 20-35 mph.
Saturday morning: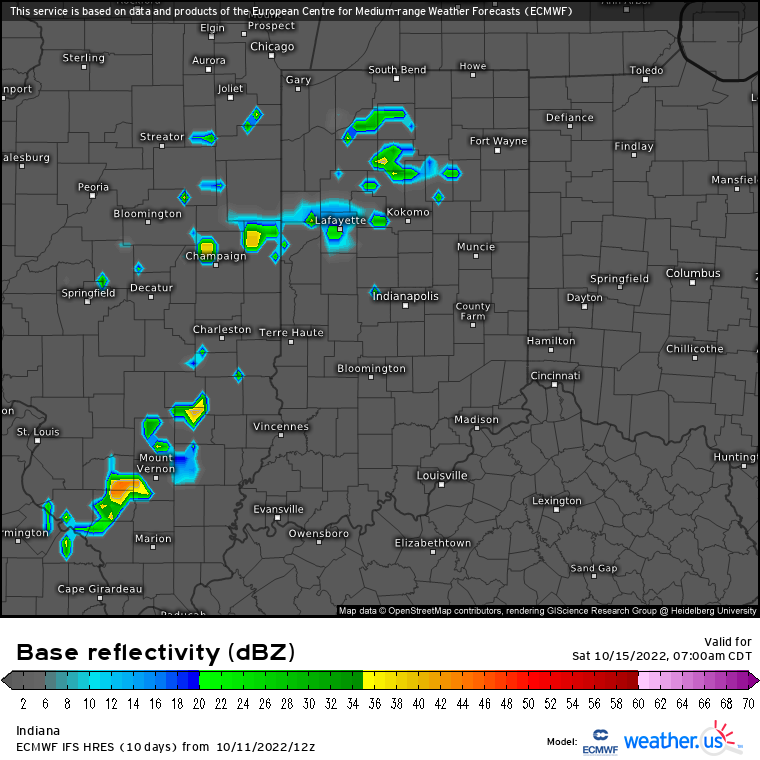 Saturday late afternoon-evening: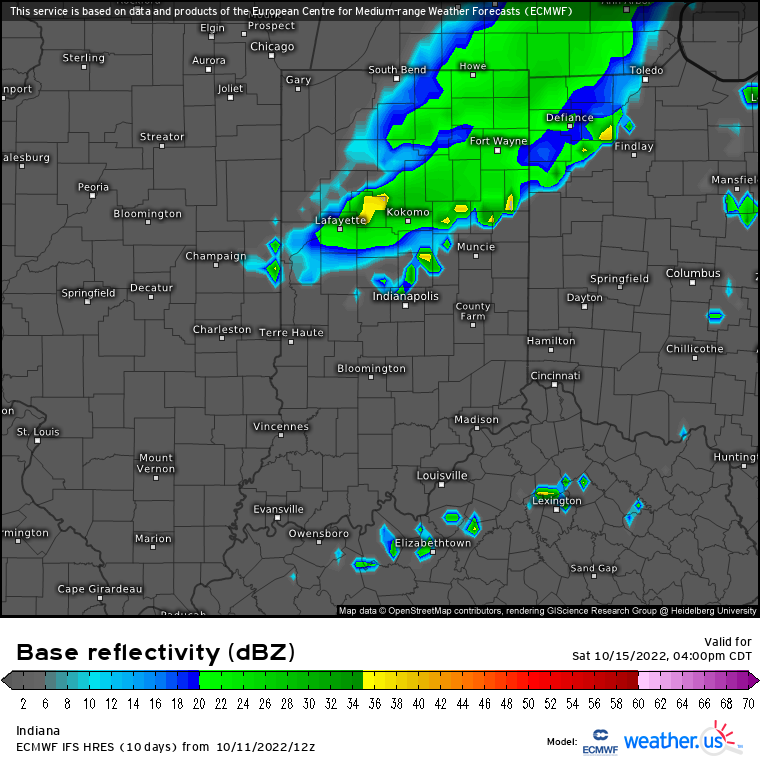 Sunday skies appear mostly sunny in the southwest, but there will be more cumulus development as you move northeast into the viewing area.
West-northwest winds are forecast to blow 15-25 mph with highs of 55-62 northeast to southwest.
Monday and Tuesday look cool and windy with west-northwest winds turning northeast at 25-40 mph.
There will definitely be a chill in the air during these two days!
Considerable cumulus and stratocumulus clouds will occur in our northern and northeast counties, with less as you move southwest into the viewing area.
Highs of 50-58 are expected on Monday from northeast to southwest, followed by 47-56 from northeast to southwest on Tuesday with lows of 34-39.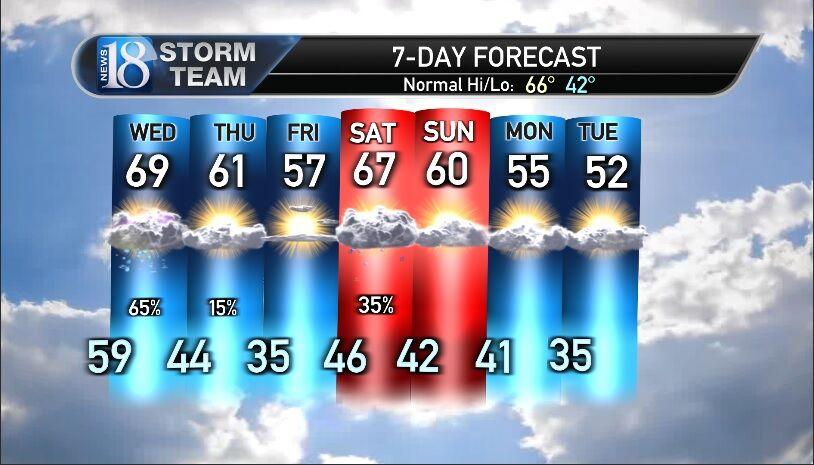 A freeze is likely Tuesday and Wednesday night next week with lows of 28-32.
Highs in the 50s are likely Wednesday of next week with plenty of sun, but less wind.
At this point, it still looks pretty dry October 15-24.
The main storm system we are watching should pass around October 25th.
It looks like a very dynamic system with a lot of shear. There appears to be enough instability for a chance of severe weather here, although it is highest southwest of the viewing area.
Temperatures can soar into the 70s and 80s in front of him, then TANK behind him. Near/record daytime and/or nighttime heat cannot be ruled out.
Temperatures could drop on October 26 after morning highs of 54-58 with a few showers, rolling low clouds and howling northwesterly winds at 45 mph.
Some splashing and even showers are possible on the night of October 26-27 with lows of 34-37 with these strong winds continuing.
This wind will put a damper on the fall color as many leaves will be blown away.
We may have highs only in the 42-46 range around October 27 with northwesterly winds up to 35 mph.
Hard frost should follow with lows of 23 to 26.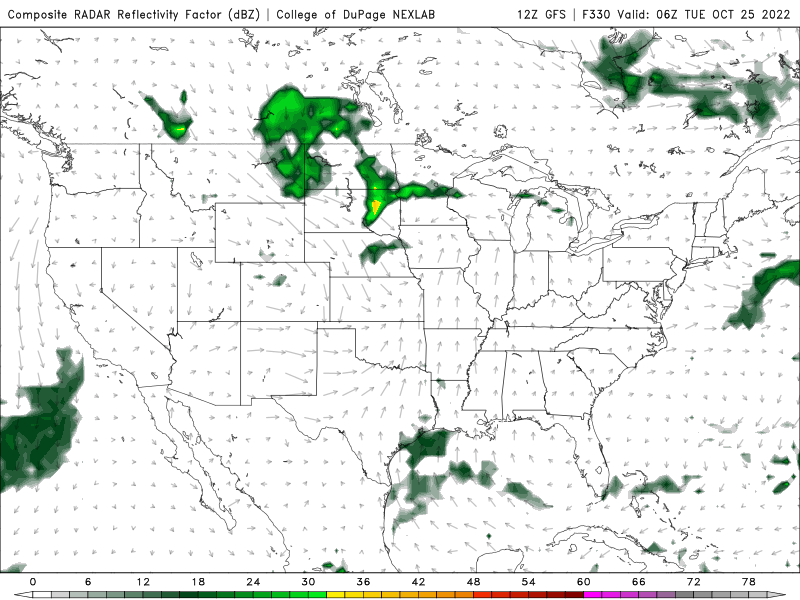 You can see the cold coming after the heat!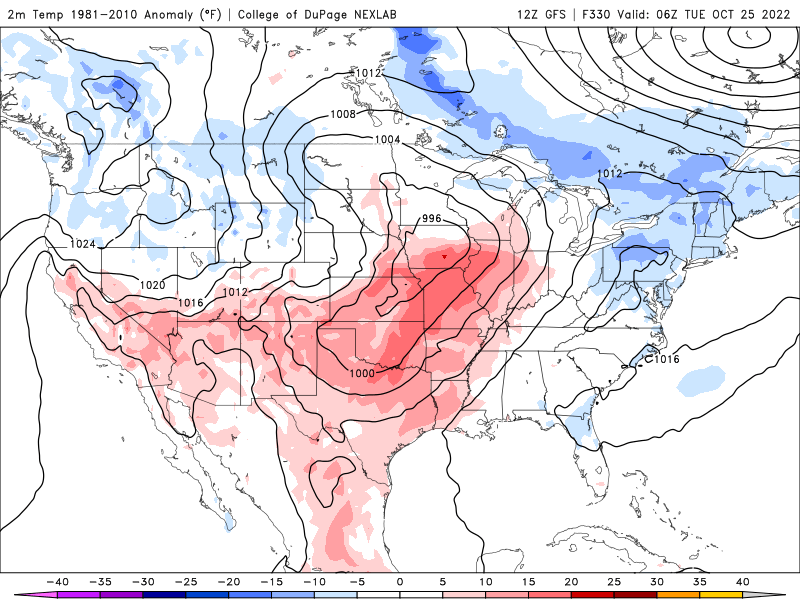 Significant warming is expected from early to mid-November.
Showers and storms with a serious risk could occur around November 5 and again around November 15.
Near/record daytime and/or nighttime heat cannot be ruled out.
Much colder air (a day or two with highs of 30) and even a few flurries are expected to follow after the near November 15 storm system.
We should bounce back into the 50s by November 20, however, with my climate and analog data being a guide for that.