June 27, 6 p.m. Weather Forecast Update – More Heat Ahead, But Some Storm Opportunities | New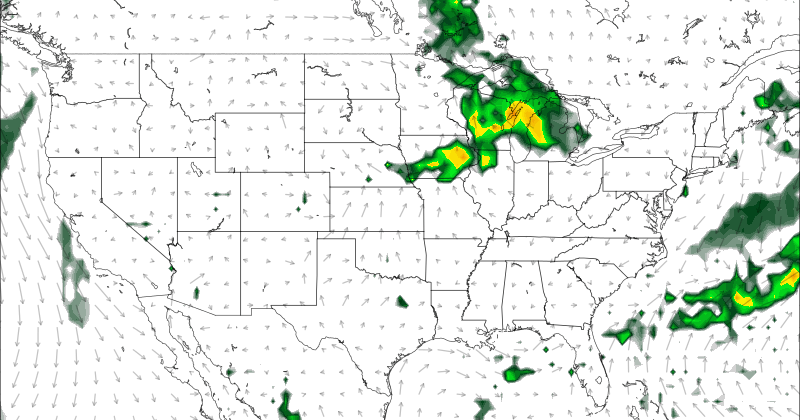 Highs today reached 75-82 with very low dew points in the 30s-40s. With wind and worsening drought (despite little rain this weekend) we actually reported a pasture field fire near Walton today.
Considering the dry soils and abundant sunshine, the way we kept the temperature from getting closer to 80-85 was quite impressive.
Tonight will be crisp and cool with the coolest night since the start of the month at 49-54.
With lots of sunshine, highs of 80-86 are likely tomorrow with very low humidity and a light southwesterly wind, followed by 56-62 tomorrow evening, then lots of sunshine and 86-91 Wednesday.
Humidity still looks very low Wednesday and even Thursday, but Thursday will warm to 92-97 for the highs.
Wednesday and Thursday will feature a southwesterly wind of 10 to 20 mph.
Higher humidity is not expected until later Friday with highs of 92 to 98 and southwest winds of 13 to 25 mph. Heat indices can reach 96-103 late.
A few isolated to irregular thunderstorms are possible from Friday evening to Saturday morning (25%) with cooler weather on Saturday with a drop in humidity.
Anticyclones are forecast to be 84 to 89 with north to northwest winds.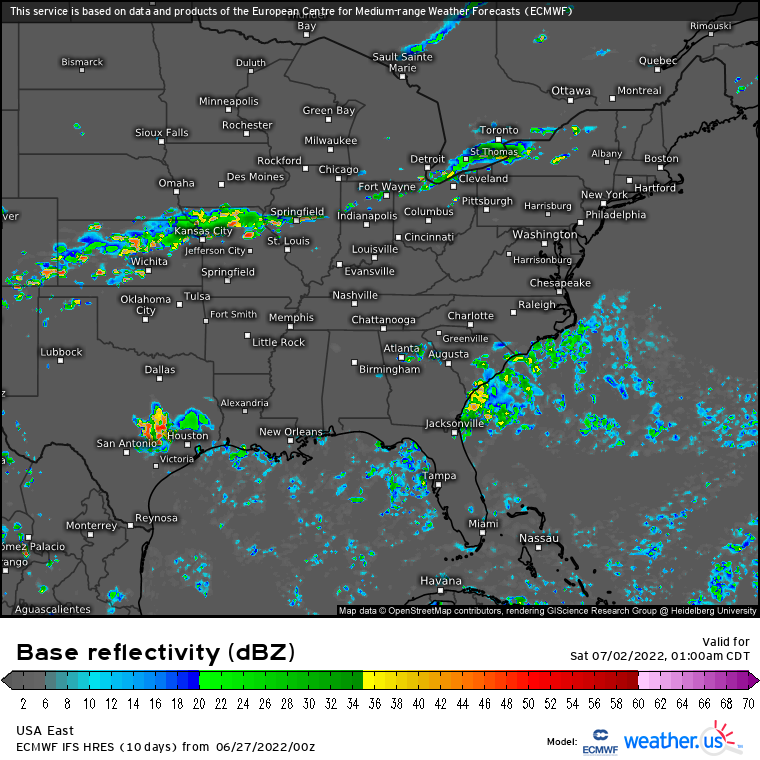 We are getting a bit cooler after the cold front passes and the upper ridge contracts.
The three areas of tropical interest and potential development would tend to move and impact Nicaragua towards Mexico and Texas towards Louisiana as the upper ridge carries them further west rather than north and north -west.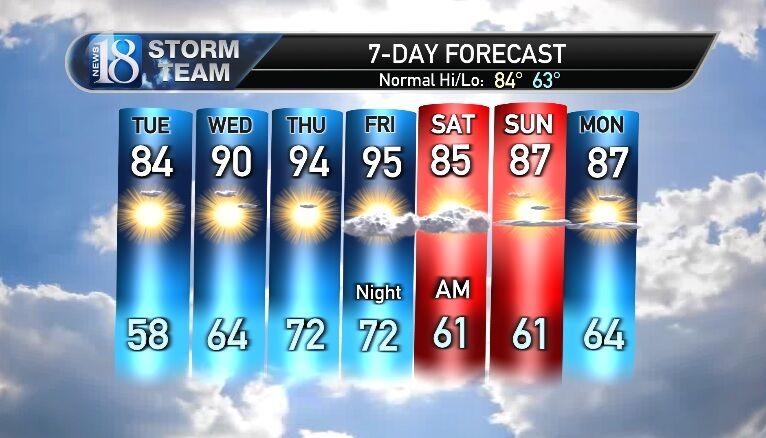 You can see the extreme heat building up with the intense upper ridge after July 4th.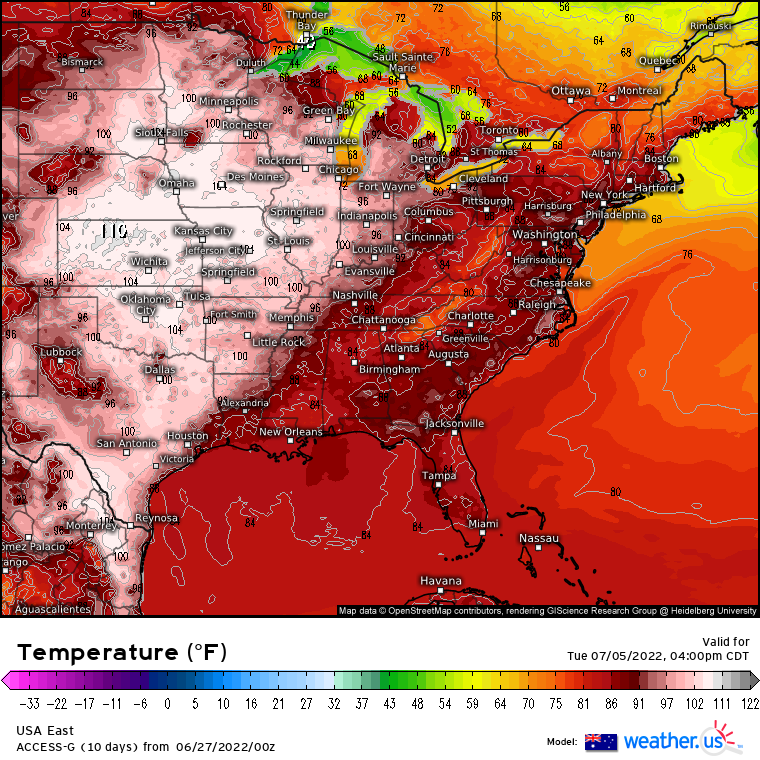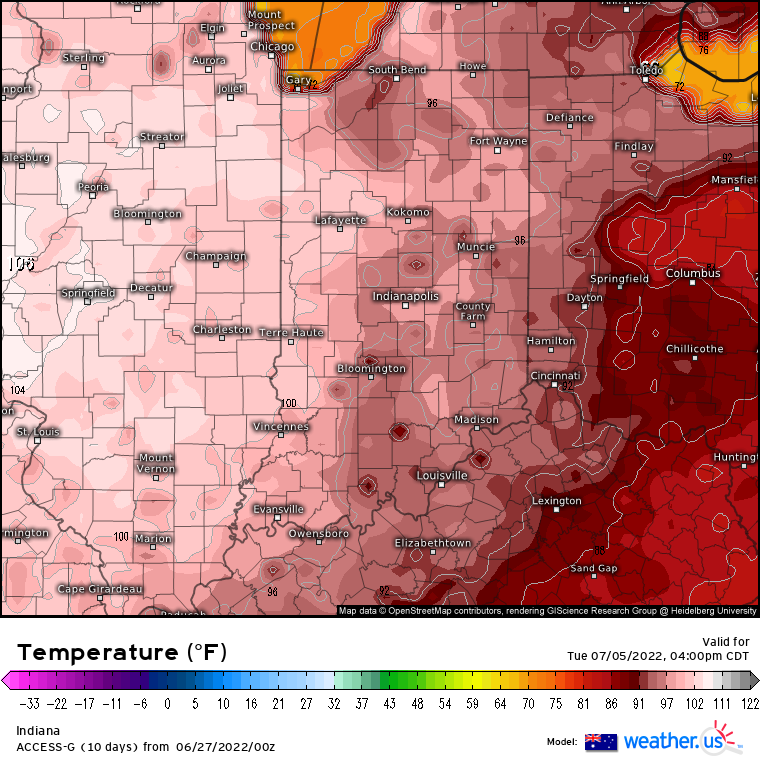 The "Ring of Fire" will fall into place at the periphery of the most intense heat with the greatest instability.
The first two major severe storm complexes are expected to track north and northeast of the viewing area as we are bathed in increasingly intense heat.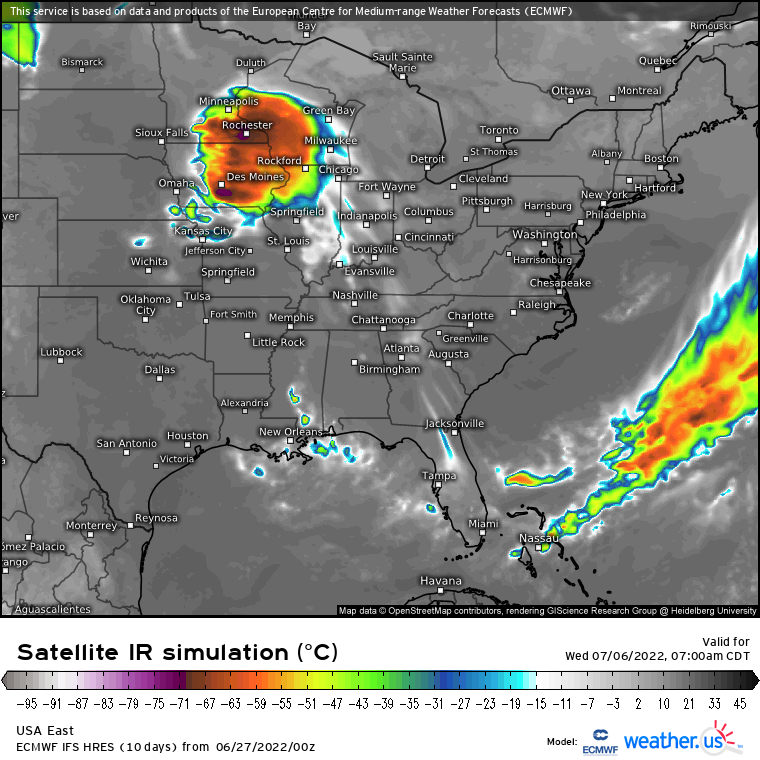 As the upper trough breaks through in Ontario, the orientation of the upper ridge is expected to change slightly with slight contraction.
This will allow a few "Ridge Riders" in the "Ring of Fire" to impact our area.
Given the extreme instability and our intense heat, a risk of severe weather would occur.
You have to look at them as if the shear and conditions turn out perfect, you end up with a progressive Derecho in this situation. We'll be watching this for our area, but it looks like we may see a few storms with some very welcome rainfall here.
This would happen around/around July 10th.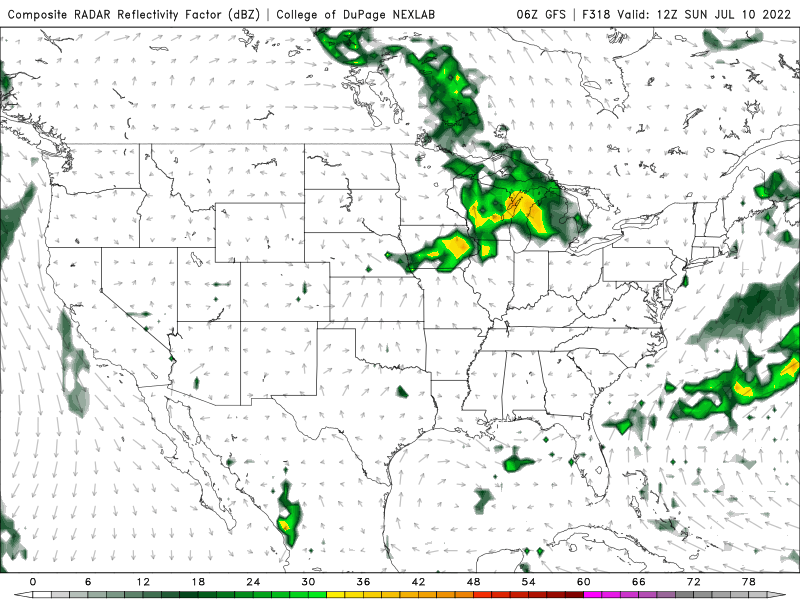 I hope we can postpone this "Ring of Fire" for the end of July with the intense heat. This would bring us some very welcome rainfall, as much of the tropical remnant follows on the belly of the upper ridge to the south and southwest of our region.
August and September still favor drier and warmer than normal conditions.
The wild card would be the tropics. If we can get multiple tropical systems here or deep tropical humidity, we could get some welcome rainfall.