Continuous snow showers today with temperatures in the 1920s.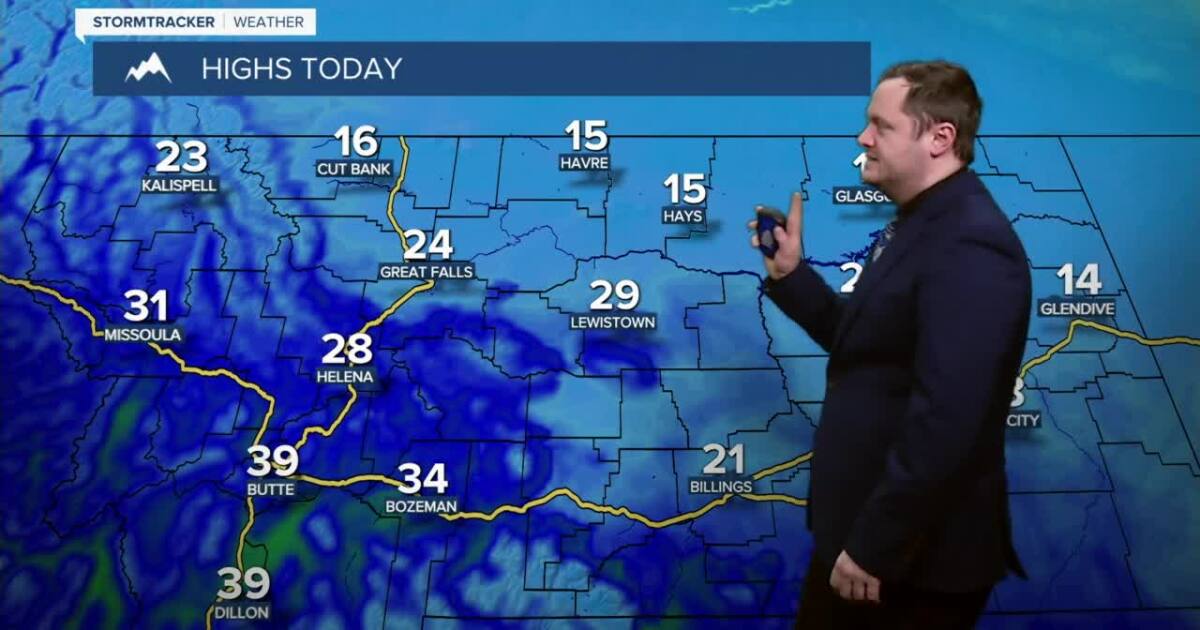 TODAY: Cold to start next week with highs just looking to hit the lows in the mid-20s. We appear to have mostly cloudy skies throughout the area and there will be patchy flurries throughout the region. throughout the day. Slight additional accumulations are likely. Winds will be lighter around 5-10 mph.
TONIGHT: We'll see the snow clearing as we head into night. We will also see some breaks in our cloud cover as we head towards the end of the night. Low temperatures will be single digits and teens for our region. We will also be picking up southwest winds tonight around 20-30 mph in the southern parts of our area while the Hi-Line remains calm.
TOMORROW: We will have warmer temperatures through Tuesday with highs reaching the low 40s. Cooler temperatures near the Hi-Line. We will also have more breaks in the cloud cover with partly cloudy skies. Winds will be from the southwest at 10-20 mph with gusts of 25-35 mph.
WEDNESDAY: Mainly cloudy skies with declining cloud cover in the afternoon for the middle of next week. Temperatures remain milder with highs in the low to mid 40's. Winds will also pick up from the southwest at 15-25 mph with gusts to 40 mph.
THURSDAY: High temperatures will be between 30 and 30 s. The weather will be mostly cloudy in our area and there is a risk of scattered snow showers. Winds will blow from the southwest at 10-20 mph with gusts to 30 mph.
FRIDAY: Temperatures will start to drop as we head into the start of the weekend for Christmas Eve. Highs will be in the teens and 20s. We will also have mostly cloudy conditions with a risk of scattered showers. The winds, however, will subside and be light and variable.
SATURDAY & SUNDAY: Very freezing temperatures as the weekend approaches. Highs for Christmas Day will be single digit while temperatures on Sunday will struggle to exceed 0 with many negative single digit highs. There will be a risk of snow showers on Christmas Day and Sunday as we will be under mostly cloudy skies. The winds will not be strong but will move out of the northeast at around 5-10 mph.