A day at London Pride – in pictures: "We are happy to sweat, to feel our aching legs, strengthened by solidarity" | Summer holidays
I watch two black men in love take communion at Pride from the crowded edge of a street opposite the stage in Trafalgar Square. The sepia-pink candies that have been thrown into the audience are unwrapped and become coins that melt in their mouths. This intimate act of personal sustenance is shared by a kiss. He is so tender that I am stopped in my tracks. Even amidst the whirlwind of bodies jostling for space, they take their time, as Kat Graham gives a thunderous performance on stage, as rainbow flags flutter around us. A bearded drag queen in a blinding outfit can't resist the seductive flash of a camera, or the cameraman who enthusiastically throws compliments to put away for later.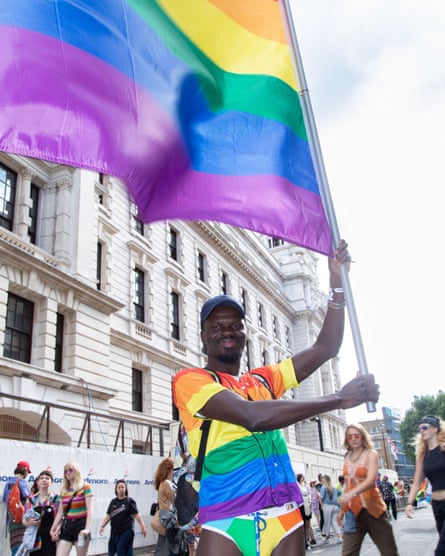 I want to take a photo of the pair of them. I want to capture the exchange of breath, their foreheads pressed together in solidarity, their limbs conversing in calm language. Instead, I squeeze half of a cinnamon danish that somehow seems unremarkable at the time. I am angry with myself. I do this more often than I care to admit, I inadvertently have my hands full of half things when they should be free to capture moments that burn into my consciousness. I calculate if I can take my eyes off them for a few seconds. They are still enveloped in their sweetness. I decide that I can. I put the danish back in the crumpled paper bag of my purse. I grab my phone for the opportunity to discreetly take a picture. They are new suns with revelers hovering around them in joyful abandon. A thin, wiry, sporting an orange mohawk, shades perched on his head. The other is stockier, in a purple tie-dye shirt, with a softness to his face that belies an outwardly tough exterior. They pass me, moving through openings in the crowd to further moments of intimacy.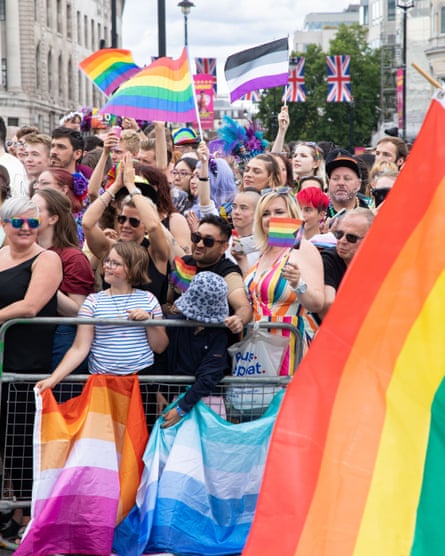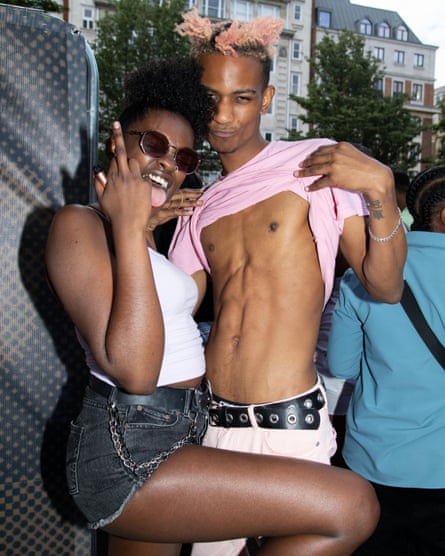 Later, I jump onto a ledge already full of bodies to watch brightly colored floats carrying people and booming sound systems pass by. I'm making room for Jordan, a 25-year-old Canadian. His pale skin is red, his body imbued with electricity that spreads through the crowd. He wears glittering silver heels, a white shirt and black fishnet stockings. Her choppy bangs give her a youthful quality. He is beautifully androgynous. An intricate, shimmering face paint of neon flowers adorns the rims of her blue eyes. He squeezes a few plump tangerines in his right hand, offering me one as a greeting. I ask him how he finds the celebrations. "Where I'm from, we don't have anything like that. It's just amazing to see people being themselves and showing acceptance. It means a lot. Growing up, I couldn't express myself that way. We smile as a teenage girl in a celestial white costume wielding wings and a sign reading "Angel of queerness" passes us, flanked by a friend, stopping momentarily as one wing folds in on itself.
We are happy to sweat, to have sore legs, comforted by the solidarity that surrounds us. We both feel we've been given something powerful, yet unknowable, to dissect later after a day of transformation. Then, on the way back, as I walk towards Tottenham Court Road tube station, other revelers emerge from the side streets holding flags, badges, whistles, banners; affinity objects that will be small mirages in the grip of the city by the next morning. I think of a crumbled, rainbow-splattered wing rising, of Blacks doing lovers' magic in spaces that momentarily collect their silhouettes like receipts. I think of Jordan dancing in a rain of shiny material. I think of standing not just on ledges, but on the edge of a precipice, where snapshots of Pride seep into my bones.